Zenbev Strawberry Shortcake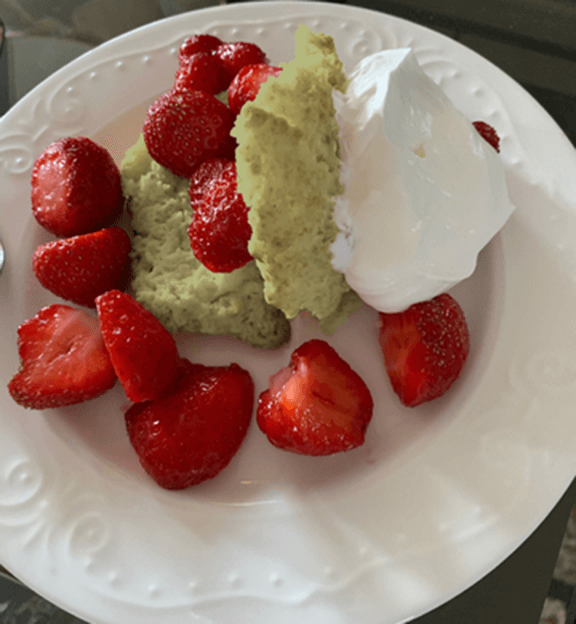 Strawberries are here! We are celebrating by making authentic Strawberry Shortcake with a Zenbev twist!
Strawberry Shortcake can mean different things to different people. Some put strawberries on a sponge cake but we are partial to more of a true biscuit shortcake that has a flaky, scone-like consistency. We tweaked this version with light, fresh Lemon Zenbev!
Here's our favourite recipe:
2 cups sifted all purpose flour
1 quart fresh strawberries hulled, washed and cut in half -divide berries so half are slightly mashed with a fork
¼ cup Lemon or Chocolate Zenbev
4 tsp baking powder
½ tsp salt
¼ cup sugar
½ cup heavy cream (Sourdough people! Substitute ¾ cup of your starter discard for the cream/water combo here and reduce baking powder by 1 tsp)
¼ cup water
½ cup butter
Whipped cream prepared, or 2 cups whipping cream, whipped
Preheat oven to 450°F. Put your mixing bowl with beaters in the freezer in advance of beating whipping cream. Mix and sift flour, baking powder, salt and sugar. Combine water and cream in a measuring cup. Cut in butter to the dry ingredients until the mixture looks like fine crumbs. Add cream/water (or sourdough starter discard if using) combination quickly, stirring until the dough follows the spoon around the bowl.
Drop by the large spoonful onto a baking sheet and flatten a little. Makes 6 generous biscuits. Bake for 10 minutes or watch for the bottom edge to become golden brown. Meanwhile, beat whipping cream with a tsp of sugar until stiff peaks form and prepare the berries.
Use the biscuits hot from the oven. Split and butter the insides. Place slightly mashed berries on the inside of the biscuit and put the top back on. Place whipping cream on the top and pour halved or whole berries over everything. Enjoy the taste of summer!
Like this recipe? Pass it on! We have lots more! Visit our Zenbev Recipe section to find so many more great recipes. You're bound to find something to your taste!